I recently talked with Cliff Clarke, LM Electronics Partner and Managing Director, and Jon Perryman, CyberSmart CEO and Founder, about welcoming vendors and dealers back to their showrooms, the new TOLA EXPO and being Catalyst AV distribution members.
Maureen Jenson: Tell our readers about the new TOLA EXPO and getting back to "life on the road"?

Cliff Clarke, LM Electronics: We presented the first annual, super-regional technology, lighting and A/V business event: TOLA EXPO! We held it at the Dallas Market Center at the very end of June. Hosted by Samsung and sponsored by ourselves, Lucas Sales Group/LM Electronics and Bell & McCoy and Elite 3 Pro. We are providing a super-regional event that is easy for manufacturers to have quality time with their customers, see cool products and have meaningful conversations in an environment that is better than any traditional trade show atmosphere.
Hosted by Samsung, there were over 35 other manufacturers exhibiting on the 10th floor of the World Trade Center to showcase the latest in Audio/Video, lighting and a host of other technology solutions for residential and commercial integrators.
The full Samsung Experience Center was on site with its latest residential and commercial display panels. The Samsung Experience Center is a "mini-home" including a bedroom, kitchen, bar and patio vignettes where dealers experienced the latest Samsung products. There were so many manufacturers there including Leon Speakers, Crestron, SI Screens and many more. It was such a success we are already planning next year's event!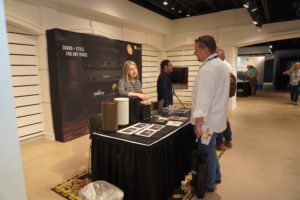 Noah Kaplan from Leon Speakers
Jon Perryman, CyberSmart: We celebrated 25 years in business Cinco de Mayo style a few months ago with some great Mexican food and fun. We've all had a challenging year and the time is right to move forward, get together, talk business and share some great authentic Mexican cooking! Guests toured our 6,000 square-foot warehouse and state-of-the-art training facility. Manufacturers and their reps, many of whom flew for the first time in months, were there: Adept Audio, Legrand A/V, Bolide Technology Group, Jasco, MD Central Vacuum, AVPro Edge and TechLogix Network.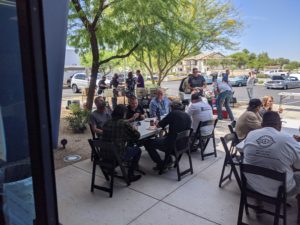 MJ: Tell our readers a little bit more about your businesses?
Cliff Clarke, LM Electronics: We service Texas, Oklahoma, Arkansas and Louisiana and strive to provide best in class service for both logistics and technical support. Joining Catalyst AV provides us with access to some of the finest products in the industry, to grow our market presence with professional marketing resources and increase our backend support structure so we can continue to provide best-in-class support to our dealer base.
Jon Perryman, CyberSmart: CyberSmart covers the Phoenix to Tucson, Arizona metro areas. We have developed strong relationships with both our manufacturers and our dealers and we've picked the right manufacturers to team up with. We are very excited about being a Catalyst AV member and share the same work philosophies and best practices as the other members. Training at CyberSmart is crucial, this video from our website proves our training commitment to our dealers: www.1cybersmart.com/cybersmart-legrand-av/.