Modern features such as Bluetooth Drive U.S. Turntable Sales
Turntables are seeing renewed consumer interest as evidenced by double-digit growth in both U.S. dollars (16 percent) and unit sales (23 percent), for the 12 months ending February 2017 versus a year ago. Premium products were a key contributor to sales growth, as dollar sales of turntables priced above $250 grew 135 percent in the 12 months ending February 2017, accounting for 11 percent of total sales. An expanding number of entry-level products also aided the market increase, as evidenced by a six percent decline in average selling price.
"In the last year we've seen the return of a number of consumer electronics products from the past – instant print cameras, NES Classic Edition, and now turntables," said Ben Arnold, executive director, industry analyst for The NPD Group. "The turntable market has been revitalized by a mixture of expanding colorways and form factors that appeal to design-focused shoppers, as well as updated features like Bluetooth to keep up with the wider trend towards connectivity in audio."
Turntables now often include more advanced features; as half of turntables sold in the last 12 months (ending February 2017) were Bluetooth capable, up from 18 percent the same period a year ago. Additionally, 39 percent of units sold were equipped to digitize records into audio files – a feature found in nearly half (48 percent) of unit sales above $300. Sales of turntables in colors other than black are also seeing growth, up 16 percent. In fact, the majority (two-thirds) of turntables sold are in a color other than black.
The majority of sales during this time have come from a mix of the top five brands in the space, including established audio leaders. The following brands are leading the industry in turntable sales: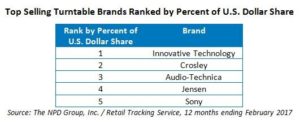 "Growth in the past year has been fueled by both casual listeners, as well as audio enthusiasts," noted Arnold. "This has allowed for a mix of lifestyle brands and high-performance audio companies to take hold in the turntable market."