Keynote John Penney, Executive Vice President of Consumer Business Development and Strategic Partnerships for 20th Century Fox 
 Keynote John Penney of 20th Century Fox kicked of CEDIA Expo 2018 by stating that the CEDIA member can, "take the spoils of war", due to the dramatic opportunities ahead in the world of entertainment.
Penney went on to discuss our entertainment in transition as the mega-mergers of content producers (studios) and in addition distributors (cable and telcos) are changing the way we receive and enjoy our content.
Said Penney, "Data is the new energy source of content monetization and the affordable, recurring, revenue subscription model of Netflix, Hulu and Amazon is the new Holy Grail."
The new entertainment platforms along with the complexity of whole home control and security require increased software integration with an ever-growing list of home devices that, if capitalized upon properly, should net the CEDIA member huge relevancy and revenue.
Said Penney, "The ability to integrate different software systems is a prized art. You are in a privileged position to make the complex simple. You are wonderfully positioned to be an advocate in the home, a trusted provider.
"Ultimately you are on the front lines of the new business model. We are entering a golden age of content and technology, and you are ideally positioned to take the spoils of war."
Sonnenfeld on Tech
Iconic American filmmaker and television director Barry Sonnenfeld took part in an intimate Q&A sponsored by Sony Electronics and Kaleidescape.
The director of such hits as The Men in Black franchise and Get Shorty, voiced his opinions on everything from film vs. digital to watching movies on mobile devices.
Commented Kaleidescape CEO Cheena Srinivasan, director Sonnenfeld is, "So incredibly aligned with our belief in the purity of the movie experience and to make it the richest it can be without complexity."
Great Sonnenfeld quotes from the Q&A were, "Ironically, Amazon [Prime Video] and Netflix wouldn't exist if technology didn't create 16:9 plasma screens. 'Breaking Bad,' which is shot like a movie with super-wide shots and extreme angles, would never have worked in 4:3. Today's displays have the same ratio as a movie theater screen, and 16:9 technology led to the rise of streaming services." And, On home vs. movie theaters: "I think comedies should be seen in theaters. Laughter is infectious and the audience cues you when to laugh. But usually the projector lamp is half as bright as it should be, the sound is buzzing, people are talking and their iPhones are glowing. Ninety-nine out of 100 times I'm better off in my home theater in Telluride. I have a 16 x 7-foot screen, McIntosh amps, Sony projectors and six sub-woofers."
Women in Consumer Technology presented "The Impact of Technology on Lifestyle Design" Panel discussion
Four dynamic women, who have worked in design and tech, discussed home automation in the intelligent highly designed environment.
Toni Sabatino, Interior Designer, Toni Sabatino Style; Dawn DeLuca, Interior Designer, Founder and Principal, Dawn DeLuca On Design; Melissa Andresko, Communications Director, Lutron Electronics Co. Inc.; and Heather Sidorowicz, President, Southtown Audio Video, covered aspects of tech and design from clients to suppliers to integrators and more.
The burgeoning markets of lighting integration, network enabled thermostats and home security systems to the bold new world of kitchen and bath integration with technology were explored.
Creating partnerships and truly understanding the disciplines that all have to work together to keep a job on track, made for a riveting discussion, with education and the value of the home design integrator being paramount to creating a project where the client is truly satisfied.
ProSource Presents First Mark of Excellence Award to Vendor Partner Klipsch
At the Klipsch Booth, Dave Workman, CEO and President of ProSource presented the first ProSource Mark of Excellence Award to Klipsch, commemorating over 30 years of partnership between the two organizations.
The ceremony and champagne toast took place at the Klipsch booth on Friday, Sept. 7.
Women in Consumer Technology 10th Annual Luncheon with Special Guest Lisa Loeb!
Over 300 attendees enjoyed the 10th annual luncheon with music and conversation with recording artist and songwriter Lisa Loeb. The highly entertaining discussion was moderated by Lisa Johnston Editor-In-Chief of industry publication TWICE.  Lisa's musical prowess was sensational, but who knew she was so funny as she discussed her love of technology and balancing family and a career in the spotlight.
CEDIA 2018 Lifetime Achievement Award Winner
Joel Silver, founder of the Imaging Science Foundation (ISF), was honored by CEDIA as the recipient of the Association's 2018 Lifetime Achievement Award.
Joel is credited with creating the display calibration business and has trained more than 7,000 technicians to be calibrators over the years, many during CEDIA-held courses.
Said Joel, "This award is a testament to all the companies and all the people who have supported me. It has been an honor. I thank CEDIA very much. I brought the calibration idea to CEDIA and CEDIA gave it a home… CEDIA gave me a home."
Back in the day, Joel took a risk and formed ISF, which was initially spurned by the display manufacturers, forcing him to hack TVs to get into their operating systems and be able to adjust color balance and other features. [As an aside, Joel wrote some of his first industry columns for me at Audio Video Interiors Magazine in the early 1990s-Ed]
Joked Silver, "I miss being a radical TV hacker. Calibration in those days was like trying to put a saddle on a wild horse."
Today, Silver sees calibration as more important than ever given the proliferation of content, "We are on the cusp of a golden age of entertainment. We have re-invented TV."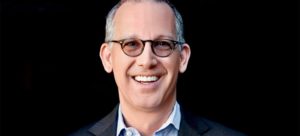 Keynote John Penney of 20th Century Fox

Filmmaker and cinematographer Barry Sonnenfeld

The packed sonnen booth

Dave Donald and Nick Berry at the Origin Acoustics press conference, "We have already had 500 dealers at our new 42,000 sq.ft. Origin Acoustics Experience Center to train."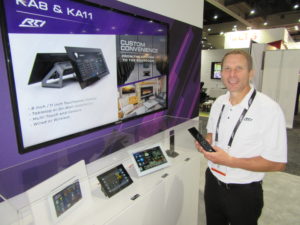 RTI's Brett Stokke shows off the company's new T4x flagship remote control and the KA8 and KA11 tabletop and on-wall touch panels and the next generation of its AV-over-HDBaseT solutions.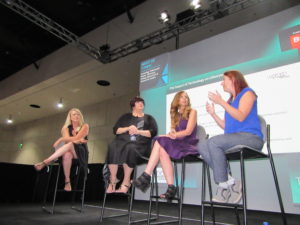 "The Impact of Technology on Lifestyle" Design panel (l-r): Toni Sabatino, Interior Designer, Toni Sabatino Style (Panel Host); Dawn DeLuca, Interior Designer, Founder and Principal, Dawn DeLuca On Design; Melissa Andresko, Communications Director, Lutron Electronics Co. Inc.; and Heather Sidorowicz, President, Southtown Audio Video.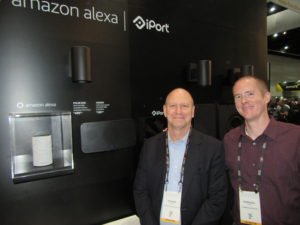 Lenbrook's Stephen Baker and Marshall Currier show off the BluOS 3.0 that brings voice control and deeper integration with Crestron, RTI ELAN and Lutron and more services to all BluOS enabled devices.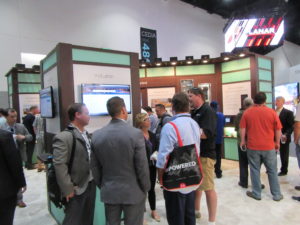 Always a CEDIA EXPO must stop, the Lutron booth.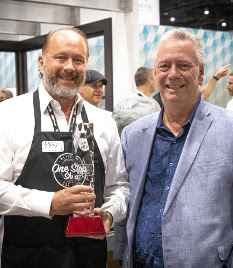 Klipsch's Paul Jacobs receives the Mark of Excellence Award from ProSource's Dave Workman.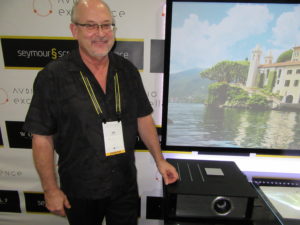 Wolf Cinema's Jim McGall explained the TXF-1100 laser-lit DLP 4K pixel-shifted projector.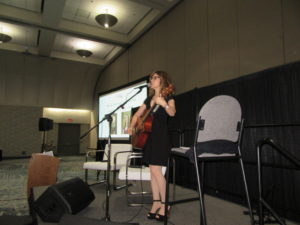 Lisa Loeb sings her hit "Stay" at the Women in CT 10th Annual Luncheon.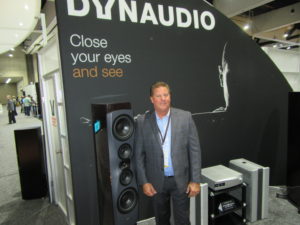 Dynaudio's CEO North & South America, Andrew Werdean, showed off the new Confidence line of speakers, new in-walls, the exquisitely styled Dynaudio All-In-One Wireless Multiroom Audio System and flag-ship speakers for a very compelling booth experience. Look for my Q&A with Andrew and Dynaudio on a Saturday morning soon!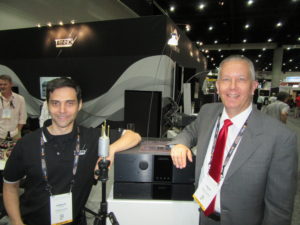 Trinnov Audio's Arnaud Laborie and Chuck Back previewed their 48 and 64 channel upgrades to the Altitude32 AV preamp.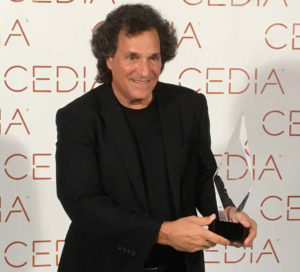 ISF's Joel Silver received the CEDIA 2018 Lifetime Achievement Award.