I recently heard some KLH bookshelve speakers and I was very impressed. It seemed like ages since I had heard from this iconic brand, so I got in touch with the President and CEO of KLH Audio, David P. Kelley to find out about the latest news.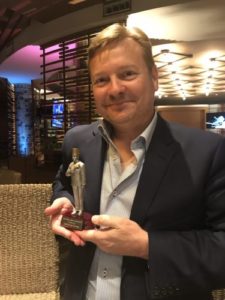 Maureen Jenson: KLH has a long, long history dating back to 1957 in Cambridge, MA and now the brand is BACK and in Indiana! Tell us the story.
David P. Kelley: When the opportunity to purchase the KLH brand was presented to me, I could not believe my good fortune. KLH is one of the most storied and revered audio brands in the world, founded by one of the most iconic engineers in the history of consumer electronics.
Following the January 2017 purchase, I quickly began to build my team of industry veterans, all of whom have a shared passion and love for music. KLH will draw upon its rich history of notable industry "firsts" in the audio category, with an unwavering obsession for improvement, and an eye toward the future.
Indiana has three of the top-rated engineering schools in America in the University of Notre Dame, Purdue University, and Rose-Hulman Institute of Technology, so there's a wealth of engineering talent from which to recruit. Indiana is also the crossroads of America and a shipping hub for Fedex and UPS, thereby reducing transportation and logistics costs.  Finally, most of our executive team are native Hoosiers so it made for an easy decision.
I have been in the audio industry for over 30 years, and have loved every minute of the journey. From my early days at retail selling HI-FI to my years in executive leadership, I have always loved this business, the people, some of whom are my closest friends, and the products, particularly loudspeakers and radios. In my heart, I have a deeply-held love for music and steadfastly believe it can change and improve lives regardless of one's circumstances. Perhaps Plato said it best, "Music is a moral law. It gives soul to the universe, wings to the mind, flight to the imagination, and life to everything."
Designing and engineering loudspeakers, creating value and cultivating relationships, while enhancing the lives of others, is profoundly rewarding. Don't get me wrong, it can be demanding, but it's rarely dull.
MJ: I recently heard a pair of your VERY reasonably priced book shelves…that sounded amazing. What are the details?
DP: Thank you for the feedback. Our goal at KLH is to improve and inspire the lives of music and movie lovers. If you felt moved while listening, we touched on a key objective. The tremendous value, as experienced in attention to detail, high-quality components and performance, is a result of utilizing long-standing manufacturing relationships and our world-class engineering team. Our passionate team draws upon a vast accumulation of decades-long industry experience.
MJ: Is KLH still making high-end loudspeakers? And if so, tell us about that line.
DP: We have taken the KLH brand back to its roots and Henry Kloss's original mission, to build world-class loudspeakers and radios at affordable prices. High-performance audio should not be the province of the wealthy, but should be enjoyed and accessible to people from all walks of life.
The new KLH loudspeakers irrefutably fulfill the aforementioned brand promise. The assortment ranges from our 3-way bass reflex Kendall floor-standing loudspeaker at $1,298 a pair, to our 2-way acoustic suspension Albany bookshelf loudspeaker at $378 a pair. These offerings feature real wood veneers, magnetic grilles with no visible fasteners for flawless appearance, powder-coated cast aluminum baskets with woven Kevlar drivers, custom-designed tapered array crossovers, vertically-brushed linear response aluminum faceplates with 25MM anodized aluminum tweeters, nickel-plated five way binding posts with Bi-amp and Bi-wire, 4-way chrome-plated spikes, and a solid MDF plinth. These mains are coupled with matching subwoofers, center and surround options. Together, they provide the market unprecedented value and opportunity.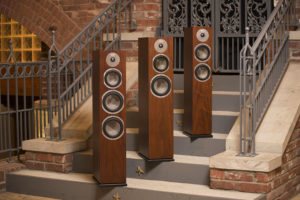 MJ: Are you going to market products through the CEDIA Channel? Or more for online and retailers?
DP: Our focus is on specialty retailers and custom integrators in the CEDIA channel who share common goals and aspirations.
We will have a tightly controlled and limited internet presence with published MAP pricing.
MJ: I understand you have an exceptional warranty; what is that all about?
DP: Offering a distinctive endorsement to the KLH brand and product quality is consistent to our ideals and history of industry leadership, so we offer double the average loudspeaker warranty – 10 years on passive loudspeakers and 5 years on subwoofers. Another KLH first!
MJ: Crystal ball time: What future trends is KLH watching at the moment and where do you see your company in five years?
DP: KLH strives to be a responsible supplier of high-performance audio solutions, at affordable prices, that inspire and improve lives. You will continue to witness the evolution of the forthcoming KLH loudspeaker to include electrostatic loudspeakers that leverage our critically acclaimed Model Nine heritage, but at more value price points. We will also be launching a new series of architectural SKUs that create a parallel product strategy with our current loudspeaker line.
We are keenly focused on IoT, augmented and virtual reality, streaming media and voice control. Look for some exciting announcements very soon about several new products we believe will revolutionize the CI channel and improve the customer experience. Here's a hint……we are launching a Model Eight Digital Radio featuring Spotify Connect, DAB and DAB Plus, Internet Radio, FM Radio, and voice control compatibility with Alexa and Google devices. The mind wonders……..
You can fully expect KLH to regain its rightful place amongst market leaders worldwide in the audio category. As you know, this is not the first time my team and I have built a loudspeaker company into a globally recognized brand name and market leader. We intend to completely engage our extensive network of dealers, integrators, buying groups, distributors and media relationships around the world to assist in this endeavor.

MJ:  What else would you like the readers of TIG to know about your products, company and/or plans for the future?
DP: At KLH we are not only thinking about today's enthusiasts, but we plan to give back and create the next generation of music lovers.
Quite simply stated, we at KLH are bullish about our products, from the fit-and-finish to the sonic performance. Consumers could easily spend 2-3 times as much to get anything even remotely close to the value of our new products. KLH offers new loudspeaker systems and audio solutions that look as good as they sound, backed by an industry-leading warranty, designed by music lovers for those who love music.