Since 1999, James Loudspeaker has been designing and manufacturing loudspeakers. I sat down with Mark Schafle, CEO of James Loudspeaker, to discuss the company's strong integrator bond, customization capabilities and meeting the needs of homeowners and designers alike!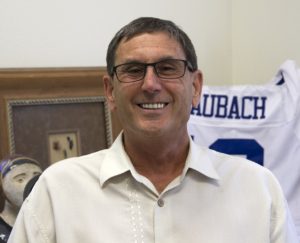 Maureen Jenson: The buzz with integrators is that James Loudspeaker builds custom loudspeaker SKUs upon request to suit specific applications . . .
Mark Schafle: Yes, James Loudspeaker averages roughly 250 custom projects per year. We can receive measurements from the integrators and often generate drawings the same day for approval by the client and/or architect/design firm. Then we can engineer the speaker, evaluate performance using sophisticated software and go from drawing to completed project in anywhere from three days to three weeks depending on complexity. We have the process working quite efficiently.
MJ: How is it possible that you can offer such a vast array of off-the-shelf products and then switch gears to create customized solutions so fast?
MS: James Loudspeaker is a vertically integrated manufacturer with engineering, machining, woodworking, finishing and final testing stations all under one roof. We have taken great care to engineer our own drivers to suit the rigors of residential, commercial, landscape and marine applications while delivering the refined performance that our customers have come to expect from our brand.
Having all of these resources in place affords us the flexibility to build what our customers need, when they need it. And we see this as an important niche in the marketplace. There are many respected loudspeaker brands scattered around the globe – but we are pretty confident that none have the combination of engineering/design chops and onsite manufacturing capabilities that James Loudspeaker possess all under one roof.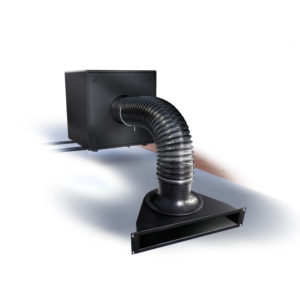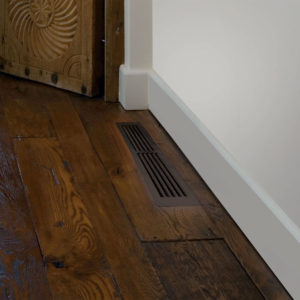 The James Loudspeaker PowerPipe subwoofer is a high-resolution hidden solution that delivers detailed bass output through any one of many standard or custom grilles like the toe-kick pictured here designed to match the HVAC vents.
MJ: How does your network of integrators leverage these custom solutions to win jobs?
MS: The mantra of James Loudspeaker for a very long time has been to offer your clients what they want rather than what you have on the shelf. As a result, our integrators are able to offer tailored solutions that their competitors cannot offer—and with quick turnaround and at a fair price. I think James Loudspeaker gives integrators a significant opportunity to succeed in this way. Another tremendous benefit of creating custom SKUs is the feedback we get at the factory from our integrators in the field. It is not uncommon for one of our custom SKUs to become a permanent part of our product line as market trends evolve. And integrators feel invested in a product line and brand when they see their ideas come to life in the form of successful products. Many of our most popular solutions came to exist in this fashion.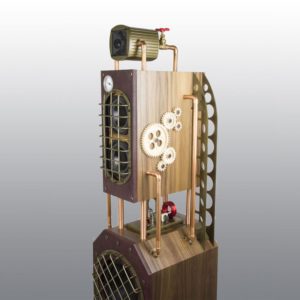 Asked to create the Left/Right channels for a home theater in a room with a Steampunk theme, the engineers at James Loudspeaker created a high-performance floor-standing speaker to match the desired theme that even includes rotating valves and glowing vacuum tubes.
MJ: The speaker industry is a highly competitive market. Is James Loudspeaker's focus on custom solutions a way of differentiating your brand from the rest?
MS: Audio, and speakers in particular, is a very competitive, overcrowded market with far too many brands in the mix. Unfortunately, differentiation between brands has been diluted by companies abandoning true engineering, stifling creativity and putting all of their energy into reduced costs and inflated margins.
It is all too easy to financially justify outsourcing product manufacturing to the lowest bidder while not considering all of the ramifications that come with that decision. We see such a choice as taking the easy way out at the expense of our customer and the end-user. Our network of integrators worldwide see the value in delivering the best solution at a fair price – and that might mean a custom solution from James Loudspeaker rather than an off-the-shelf product. But this approach earns critical referrals, repeat business and ultimately long term stability for their integration firms. We feel strongly that the growth and success of James Loudspeaker has been driven by our custom capabilities. Our mission has been to address the customer's desires, working with designers to engineer an optimized solution for each unique application, and all at a fair price and margin for the integrator.
We continue to focus on improving our internal operation through investment in our factory, skilled labor, streamlined processes and most critically resources for our talented engineering corps. Our team has prioritized responsiveness, focused on premium materials and reduced lead times for quicker product delivery to our network of integrators worldwide.
MJ: How do your custom solutions work to satisfy designers and architects?
MS: We try very hard to create the best loudspeaker possible that works within the parameters of each décor. This is quite a challenge and we come to work every day committed to that mission.
Our factory can fabricate from woods and metals, we work with a vast array of finishes and match paint, stain or whatever is required to integrate the loudspeaker. From sound bars for every imaginable display to solutions for "wallpaper TVs" to hidden subwoofers—from residential indoor and outdoor, commercial and marine, James Loudspeaker has created custom solutions that enable our integrators to be successful.