"How can we be more innovative?"
This is the question I am most frequently asked whenever I deliver a "Current Trends" keynote. The world seems to be moving at a bewildering pace and innovation is crucial to the longevity of every organization, no matter what industry you are in. And I'm not (just) talking about "new product innovation", which is what most people seem to focus on. Every single department, function, service and individual in an organization needs to be thinking more innovatively about how things currently get done and how they can be done better.
After spending over 30 years leading and participating in innovation initiatives across a wide variety of industries and organizations, I'm always temped to respond with:
"It's complicated!"
But of course I'm not that guy and what follows tends to be a conversation that meanders along the following path:
What does innovation actually mean to you and why do you want to be more innovative?
Where do you think innovation should take place?
How do you currently find out about stuff you don't know about?
How would you describe your current company culture?
How do you currently envision the future?
What have you tried to date and what were the outcomes?
How do you (or plan to) measure innovation?
How comfortable are you with ambiguity and failure?
What benefits do you expect from being more innovative?
It should come as no surprise that I've formed a few opinions and have a few insights and anecdotes to share on the above topics. So when a friend of mine asked me if I was interested in being interviewed for a 10 part podcast series on Innovation to cover precisely these points, I leapt at the opportunity – even if only to have a resource to point people towards in the first instance!
The final episode of the podcast series is the summary of a "How to be more Innovative" keynote that I do, which involves a very colourful metaphor (not another process or framework) of my own creation which ties all of the concepts together and is designed to encourage people to be more innovative in everything that they do. The metaphor involves drawing parallels between the innovation eco-system and distilling alcohol in a moonshine still. The fact that I engaged a children's book illustrator to bring it all to life for me means that it is FAR more entertaining visually in person than it is on the podcast – but if what I say resonates with you then maybe you would consider having me come in and put on a show for you one day in order to Ignite your Innovation Initiatives?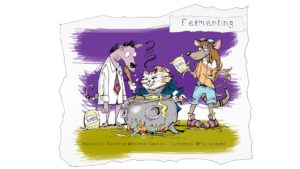 Just one of the many scenes from "Making Moonshine – the Art and Science of Innovation"