Over 300 people gathered at the end of January, as Southern California-based retailer Video & Audio Center cut the ribbon on its new flagship showcase interactive store. Located in the $1.4 billion Westfield Century City Open Mall in Los Angeles. Next to an Apple Store, the new location, around the corner from the previous store, was built from the ground up over a four-month period.
Said co-owner Joseph Akhtarzad, "This store is my latest in a 36-year-long drive to provide my vendors with relevant, high-visibility locations for the presentation of their latest technologies.
"Manufacturers need Video & Audio Center just as we need them. We're not after the do-it-yourself customer – we're after the ones who want turnkey solutions, and we build on that trend. Clients continue to tell me we have the greatest service and staff. The market is changing fast and we need to address the needs of today's customers, one of the ways to do that is through smart appliances. Don't talk technology to your customers, talk simplicity and what a product's features can do to enhance their lifestyle."
Local politicians and a host of technology industry leaders were on hand, in addition to local, national and global press, to celebrate the event.
Said guest speaker, 20th Century Fox Home Entertainment President Michael Dunn, "This Century City store is a platform to deliver the true content and entertainment experience to the customer. You have truly raised the bar on retailing to the next level."
Said Rick Calacci, LG Electronics' Senior Vice President of Sales, "This is about technology that consumers want to experience."
Mike Fasulo, Sony Electronics President and COO, also spoke and presented the Akhtarzads with a plaque recognizing their 36 years of partnership with Sony.
The store features unique elements such as tall, wall-mounted TV displays in the Sony and Samsung areas that tier screen sizes, as well as stacked, two-stories-high displays that featured LG's OLED TVs high above the showroom floor.
The special design has prompted Co-Owners Joseph and Mayer Akhtarzad to apply for a federal copyright on the design. Said Tom Campbell, Corporate Director/Chief Technologist Video Audio Center,
"This is the future of in-store retailing in an e-commerce environment, you could call it true 'vertical integration.'"
A highly visible exterior kiosk carrying the showroom's name, is located steps from the main entryway. This serves as a focal point where emerging consumer technologies will be highlighted on a rotating basis. Also featured there is the company's Just One Touch custom installation services and white-glove same-day delivery/setup Platinum Concierge Service – two amenities that address the needs of the Video and Audio Center customer.
The storefront itself is actually an invisible "air wall" with no doors or windows. This modern concept eliminates the customary glass barrier that might inhibit passersby from stepping inside to explore. Plans are in the works to "move in this direction" with Video & Audio Centers' four other storefronts.
Concluded Campbell, "The whole store is a demo room, it encourages people to touch and experience products such as headphones and Bluetooth speakers – and personal appliances such as the Dyson hair dryer. We're taking a hybrid marketing/retail approach to merchandising. Seventy percent of customers, once they are in-store, buy in-store. In brick-and-mortar retailing, it's no longer enough to just stock it deep and sell it cheap. Video & Audio Center's approach succeeds where others' attempts have had mixed results, is because we know how to close the customer."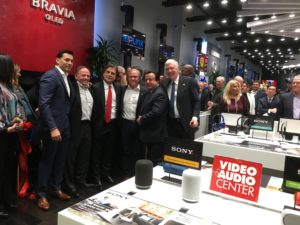 Jorge Madrigal  Sr., Director Samsung North America; Rick Calacci, Sr. VP LG Electronics; Joseph Akhtarzad, Co Owner Video & Audio Center; Mike Fasulo, President/COO Sony; Electronics Inc.; Mayer Akhtarzad, Co Owner Video & Audio Center; Tom Campbell, Corporate Director/Chief Technologist VAC.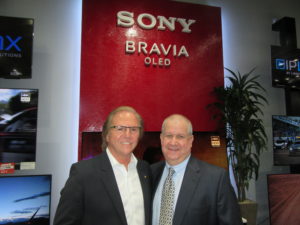 HTSA Executive Director Jon Robbins, Video & Audio Centers' Campbell and Sony president/COO Mike Fasulo, in front of the Sony area's tiered TV displays.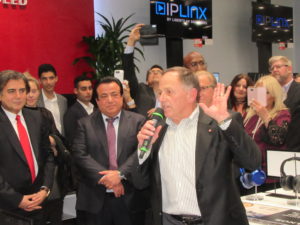 LG's Rick Calacci, "A fantastic new space to showcase our latest products. This is about technology that consumers want to experience."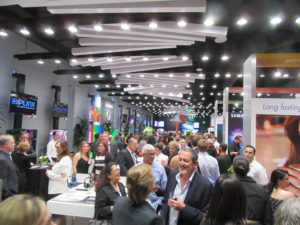 A full house and a great grand opening.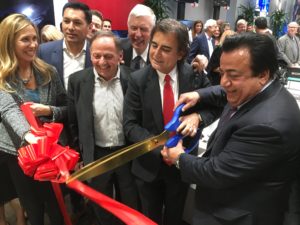 The ribbon cutting, l. to r.: Nancy Wood, president/CEO, Century City Chamber of Commerce; Jorge Madrigal, senior director, Samsung North America; Rick Calacci, senior vice president, LG Electronics; Tom Campbell, corporate director/chief technologist; Video & Audio Center; and Joseph and Mayer Akhtarzad, co-owners, Video & Audio Center.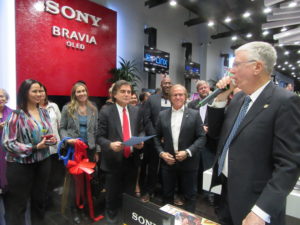 Tom Campbell addresses the crowds, as the ribbon cutting is about to start.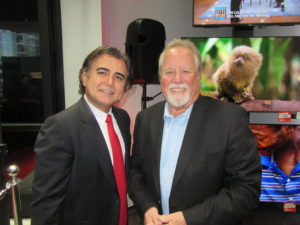 Video & Audio Center's Joseph Akhtarzad, with The UHD Alliance's Mike Fidler.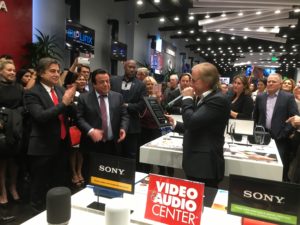 Mike Fasulo, president/COO of Sony Electronics, presenting the Akhtarzads with an award recognizing 36 years of partnership.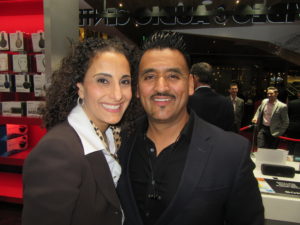 Deena Ghazarian of TargetPath and Marcus Sanchez of Fiil Audio.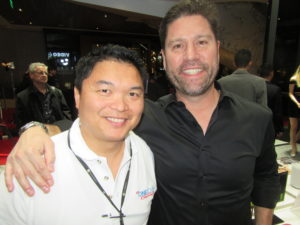 Chito Pono of Just OneTouch, Video Audio Center and Chris Lehnen of Origin Acoustics.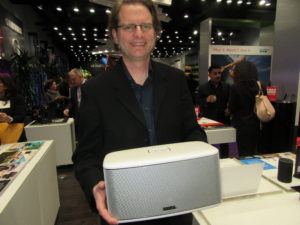 Donald North of RIVA Audio holding the Festival, a multiroom, wireless speaker in RIVA's Wand series.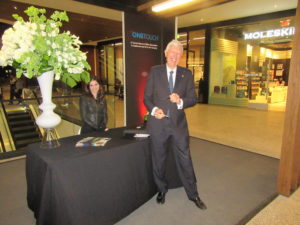 Tom Campbell introduces the store's exterior kiosk, an eye-catching space where new technology demos will be ongoing.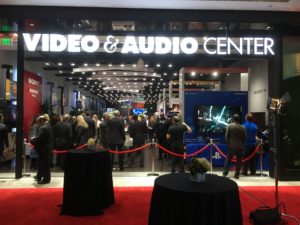 The full red-carpet treatment for the opening of the premier electronics specialist in Century City, Los Angeles.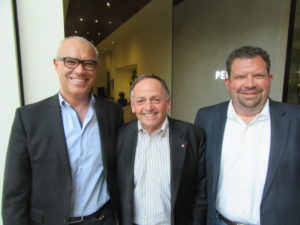 Alberto Fabiano, Crestron; Rick Calacci, LG and Hank Alexander, HTSN.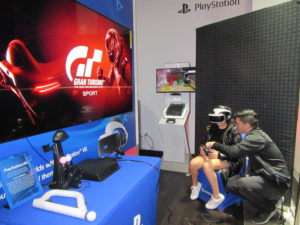 The PlayStation vignette was one of many throughout the store.