"In baseball, hitting for the cycle means getting a single, double, triple and home run in the same game. Only 330 have been recorded since the first in 1882 when Curley Foley of the Buffalo Bisons did so against the Cleveland Blues. Only four players have achieved it three times in their careers. Its difficulty is on par with throwing a no-hitter. Adrian Beltre had three, one as a Mariner and two as a Texas Ranger; all in the same park, Arlington Texas, the first in 2008, the second in 2012, and third in 2015.
In business terms, hitting for the cycle speaks to managing a company end-to-end: from customer acquisition to lifetime customer service. It's the collection of processes and practices that make a business exceptional. To our knowledge only a few have reached this pinnacle. It is our belief that many can."
Above is the opening lines of a brand new book by Paul Starkey, with Steve Firszt, titled Hitting for the Cycle: Lessons from the CI Business.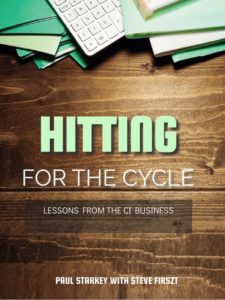 Paul and Steve are the former founders and executives of Vital Management, which was recently sold. Per last week's news release, Paul and Steve will stay on as consultants. The new firm, Vital, will continue Paul and Steve's mentoring, educating and nurturing of CI-channel companies. As long time veterans of the CI space, Paul and Steve have acquired tons of important insights into the running of small to medium businesses and what it takes to succeed, especially in luxury markets where retaining a life-long relationship with clients is vital to the long-term success of any organization.
The new book takes a look at how to find and attract clients, what products and services fit, and the importance of building a winning team. Of course, creating an environment where service is of primary importance supports the idea of never letting go of a client. And then, based on the excellence that Vital MGMT has been known for, there is plenty of fiscal advice – this section of the book is so important that any SMB owner would do themselves a good turn by gobbling up this info and adhering to the basics Paul and Steve have been preaching about for years. Last, but not least, metrics – if you don't measure what you are doing, how will you ever know that you are succeeding?
So this brisk read is highly recommended – readers here at TIG have been fortunate to get sage advice for over four years from Paul's articles – think of the book as a mash up of the best and brightest and most strategic of his pearls of wisdom. Again, this a book for any business person who wants to succeed.
But here's another really cool part, and it's vintage Paul Starkey:

Paul and his wife, Jerri, are the founders of non-profit charity, Building Better Lives. The BBL foundation was created to help provide recovery assistance to sex traffic victims. Each victim has lost her early life to experiences most of us can not even fathom. But their pasts do not define these girls' futures. As women they can realize their full potential and regain their rightful place in this world. The journey is hard but not impossible. The love they receive from the caregivers give them the strength to become amazing individuals capable of helping others. Paul and Jerri hope you share their passion for getting these girls to where their dreams lead them. Help them stop the pain, stop the abuse. Help these girls achieve new dreams.
And here's how! For every donation of $999 or more – donate here, whatever you can afford! – Paul will send you his new book, Hitting for the Cycle. You can make a difference in the world with just a little generosity – please take a moment to think about the impact on these precious lives that Paul and Jerri are assisting, and dig as deep as you can. All proceeds go to the Building Better Lives foundation so it's a win-win all the way around. Very cool!