In a recent article from The Guardian, there is pressing news regarding the climate crisis and importance on maximizing energy usage in American households:
Dealing with the climate crisis involves the overhauling of many facets of life, but few of these changes will feel as tangible and personal as the transformation required within the home. 
The 128m households that dot America gobble up energy for heating, cooling and lighting, generating around 20% of all the planet-heating emissions produced in the US. Americans typically live in larger, more energy hungry dwellings than people in other countries, using more than double the energy of the average Briton and 10 times that of the average Chinese person. 
This sizable contribution is now coming under the scrutiny of Joe Biden's administration, which recently put forward a raft of measures to build and upgrade 2m low-emissions homes. "Decarbonizing buildings is a big task but it's an essential task," said Michael Regan, administrator of the Environmental Protection Agency.
Rapid change will be needed to avoid disastrous climate change. To get to zero emissions by the middle of the century, the sale of fossil fuel boilers will have to end within five years, all new buildings will have to run on clean electricity by 2030 and half of all existing buildings will have to be fully retrofitted by 2040, a recent landmark International Energy Agency report warned. 
"The appliances we use at home have tended to be overlooked but they are contributing a significant amount to climate change and we need to address that," said Mike Henchen, an expert in carbon-free buildings at RMI. "That will touch people's lives – our homes are our refuges, the places we know best. But hopefully the change will also make people's homes more comfortable, safer and healthier, as well as reduce the climate impact." 
So what will the climate-adapted homes of the future look like? 
Designing the home to use less – and cleaner – energy
Changes on both the outside and inside of our structures will shape the future of climate-proof homes. According to Alejandra Mejia Cunningham, building decarbonization advocate at the Natural Resources Defense Council, homes will have to follow three interlocking mantras: "Using the least energy possible from the cleanest sources at the right time."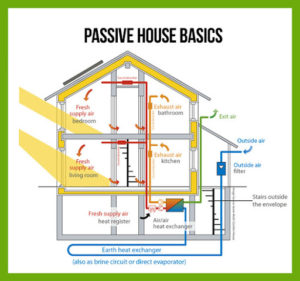 Passive Design
As readers of our Technology Designer Magazine are well aware, an architecturally-designed passive building envelope is the fundamental step in creating energy efficiency in our residences.
Passive building comprises a set of design principles used to attain a quantifiable and rigorous level of energy efficiency within a specific quantifiable comfort level. A passive building is designed and built in accordance with these five building-science principles:
Employs continuous insulation throughout its entire envelope without any thermal bridging.
The building envelope is extremely airtight, preventing infiltration of outside air and loss of conditioned air.
Employs high-performance windows (double or triple-paned windows depending on climate and building type) and doors – solar gain is managed to exploit the sun's energy for heating purposes in the heating season and to minimize overheating during the cooling season.
Uses some form of balanced heat- and moisture-recovery ventilation.
Uses a minimal space conditioning system.
Passive design strategy carefully models and balances a comprehensive set of factors including heat emissions from appliances and occupants to keep the building at comfortable and consistent indoor temperatures throughout the heating and cooling seasons. As a result, passive buildings offer tremendous long-term benefits in addition to energy efficiency:
Superinsulation and airtight construction provide unmatched comfort even in extreme weather conditions.
Continuous mechanical ventilation of fresh filtered air provides superb indoor air quality.
A comprehensive systems approach to modeling, design, and construction produces extremely resilient buildings.
Passive building principles offer the best path to Net Zero and Net Positive buildings by minimizing the load that renewables are required to provide.
Final Thoughts
As energy efficiency and resiliency become more and more prevalent in the main stream media, it is important to understand that these strategies have been and continue to be exploited in the performance home arena. Passive design is but the beginning of the discussion, with sustainable materials and an overall reduction in the use of fossil fuels following close behind.