I'll be attending the ProSource Summer Conference in San Antonio, Texas!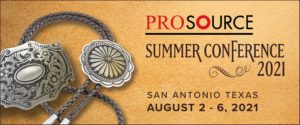 The ProSource Summer Conference is only a little over a week away, and I cannot wait to get on the road and see so many old friends and colleagues and have a proper in-person catchup! Due to COVID and no Spring Meeting this year, the Summer Conference will host PRO members for the first three days, with Power members arriving mid-week for the remainder of the invitation-only event.
The overall agenda features an impressive array of guest speakers, educational workshops, networking opportunities, working group sessions, active product demonstration rooms, entertainment and the opportunity for members to meet with key decision-makers from ProSource vendor partners in scheduled one-on-one meetings.
The keynote is of particular interest to me: "The Digital Customer, How Today's Buyer Has Changed and What Your Business Must Do About It", is presented by Marcus Sheridan. Marcus was named by Forbes as," One of 20 Speakers You Don't Want to Miss." He is known to be able to excite, engage, and motivate audiences and is also an author of the best-selling book, "They Ask, You Answer." Good stuff.
Educational presentations I am looking forward to are: "Key Project Hand-Offs Throughout the Project Lifecycle," with Navigate Management Consulting's Brad Malone, MA, PMP, and Joel Harris, principal consultant. Also the ProSource University roundtable panel on key strategies to, "Onboard, Develop and Engage Talent, Best Practices for Implementing a Training and Development Program." We'll hear from industry experts and panelists on implementing a professional development program within their organizations, to increase productivity and profits.
Highlights of the Summer Conference program will also include a celebration for the winners of the annual Members of the Year Awards and Vendors of the Year Awards. In addition, ProSource will once again host a special charity fundraiser evening for the Make-A-Wish Foundation.
Of course I am especially looking forward to some face time with the ProSource team members, especially Dave Workman, CEO and President of ProSource and Andy Orozco, Vice President, Business Development.
Said Dave Workman, "The focus of the Summer Conference is to strengthen our members' businesses by providing strategic guidance to better understand the customer, create operational efficiencies, and develop and engage our biggest asset — our people. The week is a stimulating mix of rich content and one-on-one conversations between members and vendors, providing actionable takeaways for each attendee. Plans are in place for some exciting new products to make their debut at the Summer Conference including Sony's new premium HT-A9 home theatre system and flagship HT-A7000 soundbar. With best-in-class surround sound that boasts unique optimization features, these new products give anyone the ability to create immersive cinematic experiences without ever leaving their living room."