From the Summer 2020 issue of Technology Designer Magazine – an update on voice control by Alex Capecelatro, founder and CEO of Josh.ai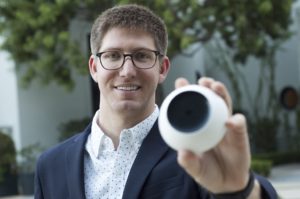 Voice control at its core is about simplification. Rather than having tons of switches, knobs, remotes and screens, simply issue a voice command to control any device in the home. As a result of COVID-19, we're seeing this advantage become more relevant and important as we look to understand our environments. With schools closed, the majority of people working from home, and the need to reduce the spread of germs, voice control is on the rise and we want to explore what this likely means for architects, designers, and smart home technology professionals.
Health and Safety
Health and wellness is already a growing initiative for home technology professionals. With the onset of the pandemic, it has also become a top-of-mind concern for every homeowner exploring ways to keep loved ones safe and healthy. When considering how many hands touch doorknobs, TV remotes, light switches, and more, it makes sense that the demand for voice-based solutions is growing to eliminate the potential for germ transmission. With that in mind, architects and designers will need to think through how to assimilate microphones into the aesthetic of every room for hands-free control. A system like Josh.ai, which provides contextually aware and natural language voice automation is positioned to make this transition as seamless as possible.
In addition to voice, the automation of air and water quality monitoring will play key roles to ensure harmful particulates are eliminated before entering the home. VOC sensors can instantly detect and alert when the indoor air quality (IAQ) reaches threshold levels. Thermal imaging cameras may also see increased demand as homeowners seek ways to monitor the body temperatures and potential fevers of those on the premises. Builders must consider these technologies during construction with piping and pre-wiring systems taking shape. This will not only future-proof homes from a safety standpoint, but also compel prospective buyers that they are making a responsible investment.
While physical health is a critical and measurable need, emotional wellness is equally as important for everyone adjusting to new daily routines. The morale of professionals working from home will be rooted in their ability to feel grounded and alert operating in an unfamiliar setting. A dedicated and properly equipped room for private sessions will be a necessity to clearly distinguish working hours from recreational time. This includes proper lighting, air quality control, access point integration, and even good AV setups to assure good Zoom calls or family movie time. And of course ease of operation facilitated by voice control is central.
Design-build stakeholders have a significant opportunity to shape the remote work experience through floor plan layout and technology implementation. They will need to conceptualize spaces that provide noise control and physical separation, while offering the utilitarianism of an office environment. Transformative technologies like circadian rhythm lighting and distributed audio to play ambient music or nature sounds are well-suited for areas requiring focus. Smart assistants like Josh.ai are already being used in commercial settings to initiate meetings and will translate even further to home offices for personal calendar announcements or household task reminders.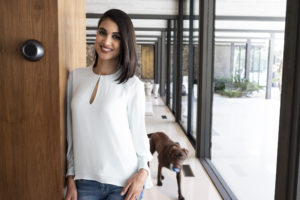 General Access 
While voice control has long been about convenience and access, we're seeing increased demand particularly in areas that could be contaminated. For example, instead of touching a doorknob to enter or leave the home, clients are voice controlling their garage doors so they can easily come and go without physical contact. Automatic sliders for doors, voice control for watching Netflix, and integrations into devices like fans, fireplaces, and sprinkler systems all allow for a touchless environment.
Privacy
When evaluating potential smart home devices, it will be imperative that stakeholders and homeowners take data privacy into consideration. For professionals working from home and hosting virtual meetings, they cannot jeopardize sensitive information being exposed or overheard. There is also the psychological effect for families placing more importance on their home being a safe space and sanctuary. Transparency with respect to a household's data security will form a compelling narrative. Especially with many consumers already unnerved by targeted social media and email advertisements based on conversations they are having behind closed doors.
Privacy and data security are concerns that Josh.ai takes extremely seriously when compared to the mass market voice assistants that are strategically using client data. A significant value for Josh.ai clients is the assurance that their system is strictly focused on smart home control. Nothing is being listened to nor leveraged with the intent of targeted advertisements. Josh.ai also allows its users to delete their system's chat history and disable its AI Learning if they prefer complete privacy.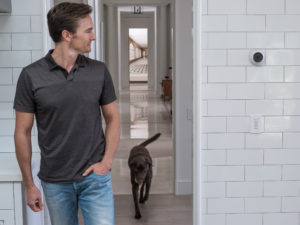 Technology Experiences
Before installing any smart home technology, its infrastructure must be taken into account to ensure a robust experience. The network normally operates in the background and goes unnoticed when functioning properly, but more time at home will result in rising usage rates due to family members concurrently working and streaming audio or video content. With more devices pulling bandwidth and consuming data rates, poor infrastructure will quickly be exposed with latency or dropped connections. This is especially pertinent for any professionals working remotely relying on video conferencing and access to cloud-based workflows. It will be worth the forethought to install world class equipment to ensure stability.
Whether it is for precautionary reasons or due to government mandates there will be more entertainment consumed at home than ever before. For homeowners and the design-build community it will result in greater interest in high performance media systems. As opposed to season tickets for a sport of choice or nights out at a concert venue, homeowners will allocate those budgets towards audio and video equipment that provides an immersive experience. For builders and designers, consulting home technology professionals will be a critical step to ensuring the proper wiring and layout considerations are respectively taken. The custom integration industry is well-suited to meet the rise in consumer research and expertise needed to implement the caliber of these systems.
From the health, productivity, and experiential standpoints, a complete ecosystem of devices will require an intuitive platform to consolidate control. Regardless of technological aptitude, homeowners will need to be able to easily operate advanced entertainment equipment in conjunction with automated environmental technologies. Josh.ai has been purpose built to make the control of these devices simple through the power of voice or its elegantly designed mobile apps. With a focus on installation in luxury homes, the Josh suite of hardware has also been designed to seamlessly blend in with its surroundings or stand out depending on the aesthetic needs.
There is plenty of uncertainty with what the future will hold or what a new normal may look like. What is evident is that our living spaces will need to evolve and become as multi-dimensional as our lives were prior to COVID-19. At Josh.ai, we are exploring ways to make our clients happier, healthier, and to have a greater sense of wellness when interacting with their systems.