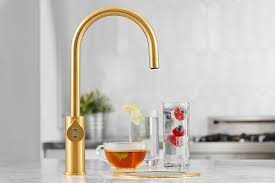 Zip Water is a company out of Australia, and their Hydro Tap system provides a pretty comprehensive solution if you're interested in a healthier approach to your personal water consumption. They start with a filtration system that produces crystal clear, pure tasting water. So no more odors or contamination.
Next, for boiling water, they use electrical pulse technology, instantaneous small energy bursts that efficiently boils only the water you want to tap into – without overheating and wasting energy.
For chilled water, they incorporate a lightweight aluminum condenser, within a solid aluminum block and stainless steel coils that perfectly chills only the amount of water you want to tap into.
And for carbonation, cold water is jetted into the solid aluminum block to produce irregularly atomized particles, which produces carbonation under pressure, the most efficient way to bring clean, cold carbonated water to the tap.
Now, here's the cool part (ahem) – all of the technology is contained in a unit that sits under your kitchen sink. And, it all pipes up to just one nozzle. And, you can even select unfiltered hot or cold water if you just want to wash your hands.
The Hydro Tap comes in a variety of fits and finishes. Check it out here.
Keep in mind that this is a relatively new product with limited distribution. While a lot of their products are available online (and they make a variety of water products), the Hydro Tap currently needs to be installed by a qualified specifier.